And suddenly the online orders start to come in. As our previous data had shown, the most popular type of balloon printing order to arrive was the text printing order. This is where customers type the text of a balloon design, choose a balloon, ink colour and amount of balloons… then order. We've yet to add set templates onto this website but they're really popular as well (especially the birthday printed balloon). I was hoping to make some changes to forwarding traffic to this website last night but I had the orders to sort out first. The changes will happen soon however. I am really pleased with the progress of this website, and as with all popular websites it takes a little time everyday and it really pays when you see it working.  This week the following countries have visited us : United Kingdom Ireland United States China Spain France Philippines Pakistan Mexico Canada Finland Malta Lithuania Haiti Argentina South Africa Mauritius Switzerland Jordan Costa Rica ….The top 50 UK places visiting us were London Manchester Coventry Thurrock Birmingham Kensington Sheffield Leeds Glasgow Poplar Liverpool York Lambeth Southampton Brighton Belfast Bolton Edinburgh Croydon Cambridge Nuneaton Stockton-on-Tees Swansea Barnsley Wembley Edgbaston Newcastle upon Tyne Wolverhampton Cheltenham Salford Northampton Worcester Chatham Woking Plymouth Milton Keynes Newport Bradford Leicester Preston Batley Cardiff Cleethorpes Bournemouth Sutton in Ashfield Dartford Chelmsford Rochester Lincoln Guildford
Our balloon designer program has just received over 50 new clipart. With our new "religious" category, lots more budding designers can produce the balloon design they require. The design your balloon online feature is available from our printing personalised balloons website. After clicking on the amount of balloons required,  Press the big silver button in the centre of the screen for it to open the design your balloon online program. Developed by "All about innovation software", the online program features tools to add text, select from over 30 fonts, change ink colour and change the angle of products added to the balloon. The online program has been a big hit with customers since it went live 2 months ago. I've just found a list of events for the coming year where people buy custom balloons (such as fathers day, graduation weeks, british armed forces day etc. etc.). I'll add these dates to the diary and we'll add relevant clipart to the website before these events together with a mention on the blog.
Happy long Bank holiday everyone.
Our personalised balloons are now available from google shopping. When searching for our products within google they may appear if clicking on the shopping section of google. The big marketing campaign starts next Monday. I'll also be adding new european delivery prices as we've had orders from France last week. I've honoured the orders with uk delivery prices for now, but this will increase as the delivery costs are so much more. Busy day yesterday, may calm down a bit today for the balloon printing website for the uk and europe.!!
Published with Blogger-droid v1.6.7
Decided to add some more text to the home page of the website. It seemed a bit too graphical in places. I still have to sort out the margins and header but it's basically all there. Images of our work have dropped down the page in place of text. We'll see what happens in the next few days. Quite weekend (but expected) for easter on the website. Visits from :
London
Edgbaston
Cambridge
Manchester
Basingstoke
Huddersfield
Nuneaton
Truro
Kings Lynn
Edinburgh
Coventry
Oldham
Birmingham
Chester
Thames Ditton
Poplar
Rochester
Crewe
Walsall
Lee-on-the-Solent
Kensington
Southampton
Northampton
Kirkcaldy
Leicester
Wombwell
Chapeltown
Wakefield
Burford
Luton
Teddington
Brentford
Worcester
New meta tags sorted for every page of the website describing the fact that this website is all about personalised balloons and balloon printing. We start a new marketing campaign at the end of this week which will last for a couple of months. Looking good.
Our first youtube clip is now embedded. A 3 minute tutorial on how to use the online design program to create your own custom balloon. Hopefully this will help customers use our balloon program. I'm hoping to get a few smaller clips around the website to help users place orders. To see the video goto the online balloon designer program section of the website. After uploading 94 balloon photos to picasa, we've placed a slideshow of printed balloons on the first page of this website. I may also add this slideshow to the sidebar so it's displayed on everypage. The sidebar is the left hand-side column that currently holds the section page and google adverts. It's the start of the week and so we're expecting as usual high volume of visitors to the personalised printed balloons website and orders to start coming in again and so slow down by the weekend. That's the normal procedure. Enjoy the website and more from the balloon blog soon.
First video created today, just uploading to youtube and will plastered on this website soon. Photographs uploaded to flickr and picasa accounts and again… will be added to this website soon. Found a new module to  add photos to the side bar (cool) and (you guessed it)… will be added to the website soon. Catching up emails and orders today. Hopefully things will change to the display of this website tomorrow.
Just emailed all about inovations to get the following changes made to the online balloon designer program :
1. After clicking the "submit design" button the wording is changed to simple read " [ ] I agree to the terms and conditions"
2. After submitting the design the page saveCart.php is displayed and automatically closes after 10 seconds
3. Remove the following fonts : appleboy, Dakota, Digital, Pagoda, Stamfod Heavey SF, ZapfChancery 
4. Correct the problem… One Stroke Plain font not appearing when clicked on the font drop down menu.
5. Remove the word "Color Tool:" from the Text Tool section as it's not required
Moving from windows to mac computers, we've had to reduce the font selection, although what other balloon designer website has over fonts to choose from !!!!
Just started to add more clipart. It's really easy to update the program with loads of clipart – however, I've just found a problem when changing to ink colour. This can be rectified by removing all the white elements from the clip art.
Wedding section just added. Took me 30 minutes to find the clipart, update the xml files, re-size, recolour and upload. COOL.
Yesterday, people in the following areas visited our website wanting a personalised balloon printing product : 
Thurrock
Coventry
London
Kensington
Birmingham
Belfast
Cleethorpes
Manchester
Guildford
Evesham
Stourbridge
Sutton Coldfield
Wigan
Sutton in Ashfield
Crawley
Newport
Sheffield
Northampton
Hastings
Wolverhampton
Bolton
Winchester
Bournemouth
Little Chalfont
Brentford
Update… Changes to the designer part of the website will occur in April 2011. Big website forwarding occurs later today once we've sorted some new banner headers from the front page.
Published with Blogger-droid v1.6.7
So this is what we have been up to…. Big campaign started yesterday promoting this website in over 100 classified ad style websites. Headed "printed balloons" the ad will start appearing within the next 5 days all over the internet. Printing personalised balloons facebook page has been liked 135 times now. The pricing structure for 1 colour balloon printing has been changed across the store and is working well so far. We are re-designing the look of design your own balloon online due to the amount of people who spend a lot of time designing balloons online and then not ordering. The pop-up window will be removed in favour of a single screen display. Hen party printed balloons are in design stages, once these have been approved they will be on display for purchase. Hope you have liked you printed balloons if you have ordered some.
Most of my email replies are templates and canned responses. This means that I can glance at an email and pull a draft response and maybe change one or two words to fit.
Here is a copy of my most used response that I use over ten times a day….
Hi,
Due the hundreds of charitable requests we receive every week, we are unable to fulfill many of the orders, like yours, for free or discounted products.
We hope your charitable events runs successfully and are sorry we cannot help yours on this occasion.
Kind Regards
Printed personalised balloons……. While we do support some local charity work, the amount of requests we have started to get is just mammoth. If I supported you all my business would be bankrupt. A great big sorry to those we cannot support but good luck with your efforts.
When you are planning to setup an event either for social or personal gathering, you have plenty of decoration options in the market. However, using custom printed balloons will certainly make the occasion more special. Balloons in itself are easily noticeable and when you integrate custom designs and messages, you will be able to directly convey the message you want your guests to receive. printed balloons are perfect choice for decorations regardless of the event. From birthdays to debuts, store grand opening, product launching, charity event, open house for real estates, car dealerships, and a whole lot more. printed balloons can easily grab the attention of guests and will easily get your message out.
printed balloons vary in designs and sizes and most of the time, the actual cost per piece will depend on the volume of printed balloons you want to order as well as its size, type of balloons used, designs, and other factors. From ten inches to seventeen inches, you can choose whatever size of balloons you want and some companies even offer giant printed balloons 40″ – 70″ in size and in different shapes and materials. You can get one sided print or have it on both sides for better impact and message delivery. If you are not budget constrained, you can consider double sided printing so you can have much better impact on your audience and guests.
If you are too busy and you have no time to visit balloon shops yourself, professional online balloon printing is your solution. Going online means spending less time traveling and you can actually complete the entire transaction in less than thirty minutes or much shorter if you already have everything laid down from details to types of printing, balloon materials to be used, color combination, designs, and other printing prerequisites. For your printing requirements, all you need to do is give the details of your specifications and they will do the rest for you. When that's done, you can still attend to your other appointments or whatever it is you plan on doing and not waste all your time scouring your area for balloon printers, comparing prices and services, and other activities required when you do your printing the traditional way.
The good thing about outsourcing your printed balloons requirements is that you can be able to easily compare prices from different balloon printing providers. You can look for a provider according to your current budget without actually sacrificing the quality of the work. When on a limited budget, you do not necessarily have to go for a muss lesser quality of balloon materials or mediocre printed designs. There are companies that are more than willing to work with you according to your budget and still give you better options for different printed balloons style without actually sacrificing its overall quality.
Setting up an event, either personal or social function, printed balloons will always play a major part in lifting up the event mood and transforming the event location into an almost magical place for your every guest. Get high quality printed balloons here. Find out how much you can save with printed balloons for your events.
Balloons printed design is one of the most effective ways of getting free advertisement while making your decorations look good at the same time. If you have a high volume balloon printing requirement either for personal or business purposes, the best way to go is to outsource to professional online balloon printing services that can do the job done at half the time it would take you with traditional printers and still get the quality balloon printout you are looking for. There are lots advantages you can enjoy with online outsourcing for your balloon printing requirements because aside from the guarantee you get for the quality of the designs and overall work, balloon printing online can also make your work a whole lot easier.
If you know it better, you can only get vivid colors, quality custom designs, and high quality print outs when professionals do it for you. This is what you can get if you can find a reliable provider online that offers high quality balloon printing services that will cater not only with your balloon printing but any other printing requirements as well for your personal occasion or business event. You can also have full control of your entire printing options should you decide to outsource it with online balloon printing services.
With online balloon printing, all you need to do is complete and fill out the official order form and in the process, allow you to identify each printing option you want included in your printing requirements including the balloons printed designs you want. You can also choose the type of materials to use, specific design to include, color, shapes, and a lot more other options to customize your balloon printing requests to best fit your business requirements or personal preferences. This will allow you to fully customize your printouts and have the convenience while doing so.
Online balloon printing services always guarantee the quality of the balloon printed designs they do. If you want your balloon prints to be of the highest quality in design, balloon materials and with the most vivid color you have ever seen, let the professional handle your balloon printing requirements and you can always find them online. Regardless of where you are planning to use your printed balloons, online balloon printing services is today's answer for high quality balloon printing results minus the expensive price.
More often than not, the quality of the result is what makes one company different from another. Although competitive price is a big factor for others, still the quality of the balloon printout will make the big difference. So when you are looking for a reliable service provider, do not limit your choices on the lowest price in the market. Make the quality of the balloons printed design one of your priorities when looking for a supplier. The market has a lot of options to choose from and when you make your research, you can find a balloon printing company that can offer you high quality balloon printed designs at a very competitive price. Get high quality balloons printed here. Find out how much you can save with printed balloons for your events.
Save the date Designs
We have created new template designs, where the wording can be changed for your own personalised message. The design, layout and fonts remain the same but the wording can be changed. These designs are for the ever gaining in popularity "save the date" range. Invite guests to your wedding or event with this quirky balloon design.
Once you know the design you require, you can order any of our balloon printing products to feature this design. Select the amount of balloons you require printing from the list below and remember the template number as you will be asked during the ordering process.
Video : How to order these templates on this website
Save the date wedding
Save the date products are basically wedding invites that may take the form of a more creative way to highlight a big date of an event such as a wedding. They are sent to people who are likely to be interested in attending the event so to keep the date free in their diary. The products contain the same custom wording on each item such as John and Katie Are tying the Knot, Please save the date, October 20th 2012, and therefore do not include the invited recipients names. Balloons have been used as a fun and exciting way to send out a save the date product. While the writing and information can be read from a deflated balloon, the act of blowing up the balloon to clarify the details in a larger writing adds to the fun and excitement of receiving a save the date product. Save the date wedding balloons are usually sent out six to twelve months before the date or at the beginning of the year (January). Where a wedding may take longer than one day, it has become common to name the balloon with a plural save the dates. This is used for overseas weddings, all weekend weddings or weddings where families need to travel some distance.
Product launches and new release dates have been sent to prospective customers via a save the date balloon, especially if the product being linked to a party atmosphere.
Save the date facts
Quick to take the name of this current trend, an east midlands company has a wedding publication and website called save the date magazine helping brides and grooms to organise the big day.
It is common courtesy to send out save the date products to people who are already attending the wedding such as bridesmaids and the best man.
Other common save the date products include fridge magnets, postcards and videos.
via WordPress http://bit.ly/Jn1yte
Our Balloon templates have been designed for printing with the wording that can be changed for your needs. View the designs, choose a template number, select the amount of balloons you want and tell us the re-wording. We have designs for wedding balloons, birthday balloons, save the date balloons, music and hen parties. We are constantly adding new designs to our portfolio. Note the font styles, wording positions and layout of the balloons stays the same, just the characters change.
View all our current designs below and order from the options beneath all the designs.
How to order ?
Select from the amount of balloons required from the options in the box below. On the following page enter the template number, new wording, balloons and ink colours.
via WordPress http://bit.ly/Na9pAj
Mr & Mrs Balloons were popular when released in early 2000′s for weddings. They have appeared frequently in photographs of the happy couple.  The popularity has declined slightly but they are still available via a number of websites. Some balloons display "Mr and Mrs" whilst others can be personalised balloons. Here we have a look a number of popular websites and shops selling the Mr & Mrs balloons.
Mr & Mrs Balloos 3ft latex
The 3ft latex balloons are available from Aliexpress at around £2.50. (aliexpress display prices on $ but will ship to the UK from China for reasonable prices). I use Aliexpress for specialist item purchases. They quote about a months delivery, but most items get delivred in under a week. Aliexpress is a company that allows trade from China become easily accessible to home and business users.
The Feather Balloon company for Mr & Mrs Balloons
The Mr & Mrs balloons found at the feather balloon company look amazing. Adding the colourful feathers to a very clear balloon is a simple and effective idea. They can also add the surname to the balloons. The lettering is large and bright. An online shop is available to purchase feathered and non-feather balloons. Highly decorative and effective.
Not on the hight street and ETSY for Mr & Mrs Balloons
Always worth a look are ETSY and Not on the high street. An array of companies selling Mr and Mrs Balloons. Their webites have become popular with small businesses and crafters. Clever website searching can sometimes find the companies selling items cheaper on other websites.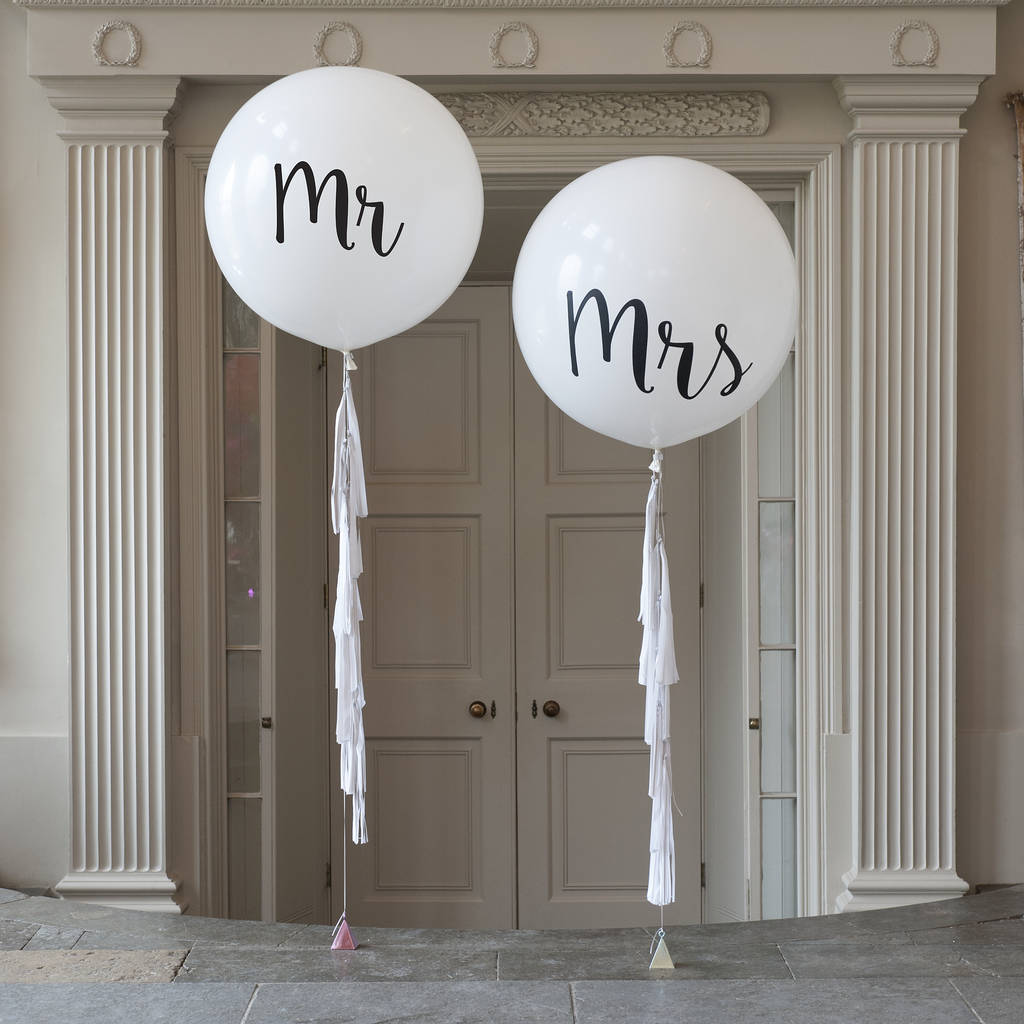 (Picture  link from Not on the high street)
Mr and Mrs Balloons
Ebay has become a popular place to buy balloons flat, and for customers to use local party shops used to inflate. Many party shops do not like this idea, as they are losing out on profit to cheaper re-sellers.  The card factory for example will only inflate balloons purchased from their store (was the situation at October 2017 in Birmingham).  Ebay have a great selection of mr and mrs balloons from many party retailers all fighting for business and well worth a look. Amazon has a smaller "selected" range of companies but still worth a look. Sometimes wholesalers are selling to the public on ebay.
Bubblegum Balloons for Mr & Mrs Balloons
A great website to look at is bubblegum balloons. They do things different when compared to other balloon companies. A lot of balloons shops copy the same idea. Bubble gum have some different ideas including the Wifey Hubby balloons set. Their work is also sold on "not on the high street" which also contains other retailers selling similar products.
Twigs & Twirls for Mr & Mrs Balloons
Although based in USA, Twigs & Twirls website is a great idea resource page as they don't deliver to the UK. They have a selection of Mr & Mrs Balloons available. Have a look at our article on party and balloons shops in Coventry.